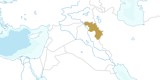 Located in the heart of the Middle East, the Kurdistan Region is strategically situated at the crossroads of Europe, the Middle East and Asia.
Kurdistan is an autonomous region in northern Iraq governed by the Kurdistan Regional Government (KRG) and has its own legislative body. The region borders Iran to the east, Turkey to the north, and Syria to the west.
The Kurdistan Region has the potential to be your gateway to the growing markets of Kurdistan and Iraq, as well as the wider markets of the Middle East and Europe.
Why Invest in the Kurdistan Region?
The Kurdistan Region is considered a safe and stable area compared to the rest of the country. Its economy has experienced significant growth over the past two decades and has received significant investment from both local and foreign investors.
The Investment Law of the Kurdistan Region treats local and foreign investors equally and offers a range of incentives, including a 10-year tax exemption, land allocation, repatriation of capital, and others. 
Read more about the incentives and reasons to invest  ➔
Statistics of Investment Projects
No. of Licensed Projects
1144
Amount Invested
$67.4 Billion
FDI and Joint Ventures
$12 Billion
Investment Guide
This guide introduces the region to investors and highlights investment opportunities in several key sectors.